Summer '98
As usual, click on a picture to see it in detail.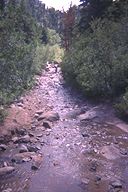 After Dad came out for a 1 week adventure tour of Colorado the previous year, he decided that I would be a better tour guide. Well, maybe. Anyway, being the slacker that I am, I threw some stuff together at the last minute. (While I wasn't out mountain biking with my friend Dan Bowers, left, or climbing something.)

Dad and I started out camping at the Half Moon Creek campgrounds between Mt. Elbert and Mt. Massive, which we hiked the next day. Great campgrounds, except for being a little crowded.

Then it was off to Durango, CO for a comfortable stay in a B&B. But on our way we stopped off at the Black Canyon of the Gunneson, which is a deep gourge that the Colorado River runs through. Unfortunately, this picture doesn't really do it justice.

Next it was off to the Great Sand Dunes National Park, just west of the Sangre de Cristo Mountains. The strong winds blowing across the San Luis valley, are stopped abruptly by the Sangre de Cristo mountain range, causing tons of sand to accumulate at their base.


Note: All these photo's were taken with a disposable camera and scanned in during development.


russell.brinkmann@crosslinkinc.com gEEk at large
last updated:Jun 27, 1999